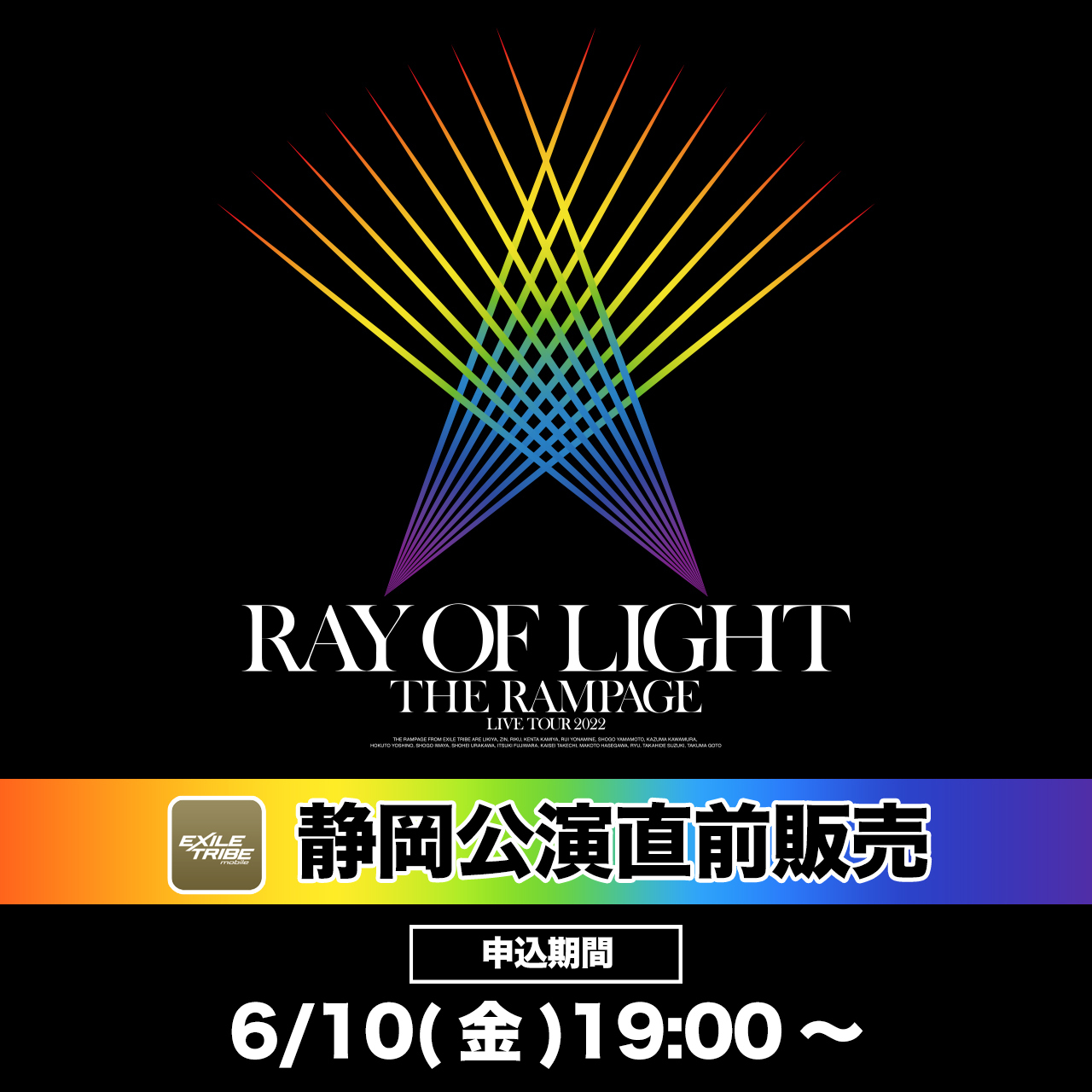 Thank you very much for applying for tickets to the shows of THE RAMPAGE LIVE TOUR 2022 "RAY OF LIGHT"!
Now that the stage plan has been finalized, some additional seats will be up for grabs!
【Notice】
*Please be advised that some of these seats may not be perfect for watching the show.
*The arrangement of seats will be made in accordance with the regulations of the Government, municipal authorities and the venue.
└The arrangement of seats and the distance between seats may be changed in accordance with the new measures against COVID-19.
*The opening time and starting time are subject to change according to the policies of the Government and the municipal authorities.
*We will only issue electronic tickets (for smartphones) for these shows.
*Tickets are required for viewers who are 6 years old and older. Viewers under this age cannot enter.
*We will arrange your entry time and the entrance.
└Please confirm the details on the homepage in advance and come at the designated entry time.
*In order to avoid congestion, we will "guide viewers to leave the venue" after the concert ends. It may take more time than usual. Thank you for your understanding.
*Some part of the content may be changed depending on the circumstances.
*Please be sure to read the notice on the official homepage of LDH before purchasing tickets.
【Tickets will be available for the following shows】
6/11 (Sat.) 17:00 ECOPA Arena (Shizuoka)
6/12 (Sun.) 15:00 ECOPA Arena (Shizuoka)
【Application Period】
6/10 (Fri.) 19:00~
*Tickets will be sold on a first-come, first-served basis and no further applications will be accepted once the set number of available tickets is sold.
*Be sure to check the ticket info and notice on the ticket purchase page before you make a purchase.
【Ban on resale】
It is forbidden to resell the tickets to any third party regardless of the reasons.
It is also prohibited to give the tickets to any third party who will resell it afterwards.
When giving the tickets to friends or acquaintances, please inform them about the ban on reselling to any third party (including online auctions, etc.).
▼Click here to apply & purchase tickets▼